General Information
The FRED (Flexible Recreational and Educational Device) concept was used by RCA for multiple prototype computers eventually resulting in the release of computers like the VIP and Studio II. The FRED 1 emulated by Emma 02 is based on the information found in this manual as well as games found on different tapes from the The Sarnoff Collection at TCNJ.

This is the only emulated computer in Emma 02 which is not using a CPU from the 180x serie. Instead it is using a chip set as was used in the RCA SYSTEM 00 protoype. The SYSTEM 00 chip set uses a subset of the 1801 instruction set with some incompatible differences and is likely what the 1801 was based on.

Technical specifications
CPU: SYSTEM00
Clock: 1 MHz
Memory: 1 KB RAM
Video: 32x32, 64x16 or 64x32 pixels
Sound: from tapes or by toggling bit 2 in OUT 3
Keyboard: Hex keypad

Screen shot
FRED 1 running the bowling game which uses bowling sounds from tape when rolling the ball.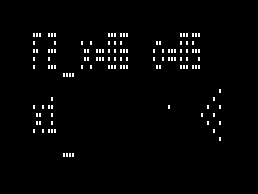 Bowling
Links
Very little dedicated FRED 1 sites are available but Herb Johnson has a very interesting page: RCA/Weisbecker "System 00" and "FRED"
Main Features FRED 1 Emulator
Adjustable speed, boosting the speed of the FRED 1 beyond 1 MHz!
Tape features (wav file and real cassette support) including a Turbo version
Auto detection of the tape format and detection of stop tones
Direct FRED 1 memory access to load and save software from the PC hard disk via binary files
Support for the FRED 1 video with zoom and full screen option by pressing F3
Video screen dump to a file (BMP, JPEG, PNG or PCX image)
RAM extension up to 32KB