F&M Joy Card
This card was not developed by COMX but was a home made extension by F&M: only a handful were ever made. The card had connections for 2 joysticks and came with a simple game ( F&M Pit Stop) and supporting software (F&M Joy Tekenen, Joy in Basic and Activate Joy Card).
Joystick 1 is connected to INP2. Joystick 2 and both fire buttons are connected to INP4, as follows:
b0: Up
b1: Down
b2: Left
b3: Right
This allowed for 8 directions as two directions, e.g. up and right can be active at one and the same time.
INP4, b4 and b5 are used for the 2 fire buttons of joystick 1 and 2.
The F&M Joy Card did not include any ROM files but for the purpose of the emulator I have included a very small 'dummy' rom file so that the emulator actually detects where the Joy Card is connected.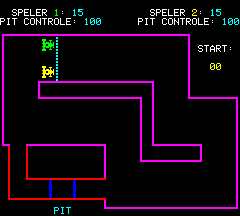 F&M Pit Stop