General Information
The Cosmicos (COSmac MIni Computer System) was first published as a DIY kit in the Dutch magazine Radio Bulletin, developed by Bob Stuurman. The system was based on the Cosmac Elf design. Extension boards included a hex keypad, 7 segment TIL313 panel, Eprom programmer, CDP 1864 Video (black and white), 48K RAM and a floppy disk card.
Technical specifications
Clock: 1.75 MHz MHz
Memory: 256 Bytes RAM
Video: 2 TIL313 (for two character hexadecimal display)
Sound: None
Keyboard: Toggle switches

Screen shot
Cosmicos running the ASCII Monitor on a VT100 terminal.
Links
There is one good site Retro Computing with Cosmicos info and documentation however note that all documentation is in Dutch.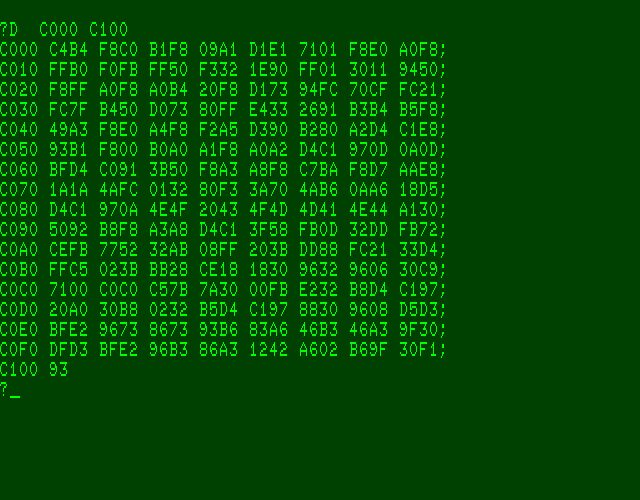 ASCII Monitor
Main Features Cosmicos Emulator
Adjustable speed, boosting the speed of the Cosmicos beyond 1.75 MHz!
Tape features including a Turbo version and automatic tape handling
Direct Cosmicos memory access to load and save software from the PC hard disk via intel hex, binary files
Terminal simulation (DEC VT-52 and VT-100)
Video support for CDP1864 (Pixie) with zoom and full screen option by pressing F3
Keyboard support for Hex keypad
Hex keypad and 7 Segment Panel support
RAM extension up to 48KB
Sound support for 'Q flag' connected speaker and CDP1864 sound
Video screen dump to a file (BMP, JPEG, PNG or PCX image)
1805 CPU Mode