General Information
The HUG1802 was designed around 1978 in New Zealand by Hugh Anderson, where HUG in the name was refering to Hugh. In 1978 and 1979 more than 100 boards were sold through a company called Kitparts N.Z. In 1979 Kitparts sold the idea to the Australian ETI (Electronics Today International) magazine, who re-worked the PCB, renamed it to ETI-660 and published it as a DIY kit.
Changes in the ETI 660 compared to the HUG1802 were as follows: the 2708 was replaced with a single-supply 2516, the colour circuitry was modified to use a standard 390nS TV delay line, and the keypad was replaced with keyswitches. This work was done by Graeme Teesdale.
No changes were made to memory maps, or the ROM, and as a result, anything that ran on a HUG1802 would run on an ETI 660. Hugh is the designer of the ROM (a CHIP8 interpreter and monitor with tape I/O) as well as HUG-BASIC-1K and HUG-CHESS of which binary files were recently made available by Hugh.
The design was very similar to the Cosmac VIP and Telmac 2000. Like the Telmac 2000 the ETI 660 also used the CDP 1864 for video but the supplied system rom was also able to handle the 64 x 48 resolution and included a chip-8 interpreter.
Technical specifications
Clock: 1.773 MHz
Memory:
1 - 3 KB RAM and 256 x 4 bit colour RAM
1 - 2 KB ROM
Video: CDP1864
Sound: CDP1864
Keyboard: MC6821
Screen shot
ETI-660 running the colour game Wipeout.
Links
There is very little information about the HUG1802/ETI-660 available.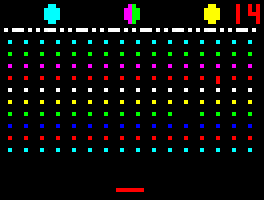 Wipeout
Main Features HUG1802/ETI-660 Emulator
Adjustable speed, boosting the speed of the HUG1802/ETI-660 beyond 1.773 MHz!
Tape support (wav file and real cassette support) including a Turbo version
Direct ETI 660 memory access to load and save software from the PC hard disk via intel hex or binary files
Video support for CDP1864 with zoom and full screen option by pressing F3
Sound support for CDP1864
Video screen dump to a file (BMP, JPEG, PNG or PCX image)
Memory mode for either 1KB ROM and 3KB RAM or 2KB for both
Support for Chip 8 interpreter included in ETI 660 system rom