General Information
The COMX-35 is my favourite computer in the Emma 02 Emulator. Mainly because this was my first computer and got me interested in the RCA CDP1802, computers and software development. The COMX is the only computer in this collection that I actually owned.
The COMX-35 has a keyboard with an integrated joystick in place of cursor keys. It was relatively inexpensive and in the Netherlands it came with a 'large' collection of free software. COMX-35 was manufactured in Hong Kong by COMX World Operations Ltd. The picture above is the black model, it also came in white and was released a few years after as a COMX PC-1 with an improved keyboard.
Different HW extensions were made available, including an expansion box allowing 4 extension cards to be connected simultaneous. Cards were available to connect floppy disk drives, printers (parallel, serial and thermal) and an 80 column monitor. A 32K RAM extension was available as well, however the additional RAM was not usable or supported by COMX BASIC.
The design of the COMX-35 is quite similar to the Pecom 64 and the Telmac 600, even the BASIC is based on the same code as these computers. All 3 were based on Quest Super BASIC which is running in this emulator on the Elf (Cosmac, Netronics or Quest).
Technical specifications
Clock: 2.813 (PAL) or 2.835 MHz (NTSC)
Memory:
32 KB RAM and 3 KB Video RAM
16 KB ROM
Video: CDP1869/CDP1870
Sound: CDP1869
Keyboard: CDP1871

Screen shot
'Pac-Man clone' for the COMX-35 written by F&M
(my brother and me).
Links
The 2 best sources for COMX information on the internet are:
1. COMX Club Netherlands with lots of documentation and software
2. The Comx-35 on Wikipedia with some detailed info about HW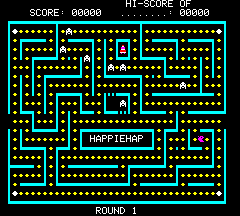 Happiehap
Main Features COMX Emulator
Adjustable speed, boosting the speed of the COMX beyond 2.813 or 2.835 MHz!
Tape features (wav file and real cassette support) including a Turbo version and automatic tape handling for BASIC commands (PLOAD, PSAVE, DLOAD and DSAVE) and all F&M Turbo loaders
Disk drive and COMX DOS support via image files, including the DOS 1.4 master disk image
Direct COMX memory access to load and save software from the PC hard disk via '.comx' files
Expansion box, including the original and a version including the F&M expansion ROM V3.10 with full screen editor
SuperBoard, 32K RAM card, F&M EPROM Switchboard, F&M Joy card, Printer controller (original and one with F&M ROM)
PAL and NTSC video modes and support for the COMX 80 column card all with zoom and full screen option by pressing F3
Sound support for MUSIC, TONE and NOISE commands
Support for

COMX PL-80

Plotter, Thermal and Standard Printer simulation including possibility for sending the output to any printer you own or to a file
Video screen dump to a file (BMP, JPEG, PNG or PCX image)
On the COMX Club Software pages you can download '.comx' files with all kinds of software made for the COMX. All software is also included in the installation package.