Cosmac VIP Emulator
This emulator will emulate the Cosmac VIP computer. Additional information about the Cosmac VIP can be found on the Emma 02 site.
To start the Cosmac VIP emulator first select the RCA tab (yellow ellipse) followed by the Cosmac VIP tab (orange ellipse) and then press Start: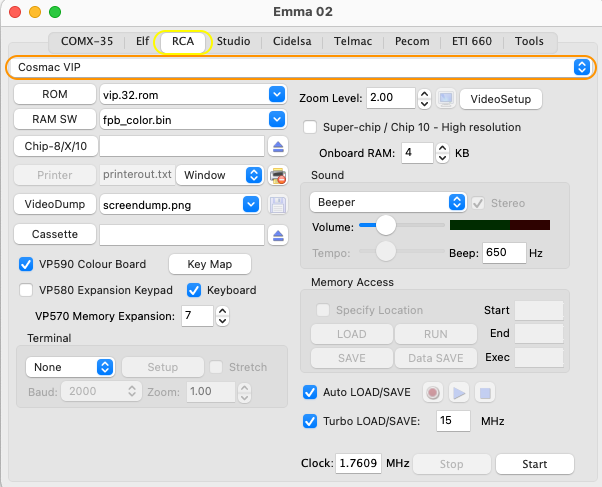 After starting the Cosmac VIP emulator the 'F12' key can be used to simulate the Vip run switch, i.e. when 'F12' is pressed the VIP will stop execution and when pressed again it will restart. This can be used to start the VIP in system ROM mode: start the emulator, after this press the 'C' key and while keeping the 'C' pressed, press 'F12' twice. See also Function and Hot Keys.
The above will have started the default Cosmac VIP emulator configuration which is running the Fixed Point Basic. Note that the patched vip.32.rom files is used which starts checking for RAM at 0x7FFF instead of 0xFFF to avoid overwriting the pre-loaded FPB code. To change to other predefined configurations load one of them with the menu option below (blue ellipse) following the grey menu:
Summary of the Cosmac VIP configurations:
Chip 8
Chip 8, also using the patched vip.32.rom file.
Default/FPB
Fixed Point Basic, also using the patched vip.32.rom file.
SuperChip
My own VIP SuperChip interpreter!
Tiny BASIC
The RCA VP700 Tine BASIC ROM, also using the patched vip.32.rom file.
This chapter also includes:
ROM Files
RAM Size
Keyboard
Pre SW load
Printer Support
Cassette Support
Colour and Sound Board
Fixed Point Basic