Function and Hot Keys
The following function and hot keys (except CTRL V) can be used in any of the Emma 02 windows in some cases the function is depending on the emulated computer.
To change the defined keys below use menu item below:
In the Function and Hot Key Mapping window that opens any of the PC keys (blue ellipses) can be changed and the 'Exit key' and 'Paste' (yellow ellipses) features can be enabled or disabled: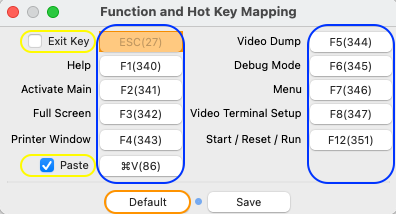 To change a key first select the button to be changed (one of the buttons in the blue ellipses), after this 'Press Key' is shown on the button, now press the PC key it should be mapped to. Any PC key that is mapped twice will be shown in a red colour. Any key used by one of the emulators is shown in orange (orange ESC key above).
Avoid double mapping (red) as the emulator will not be able to handle this. Re-using emulator keys (orange) will work but it will disable proper working of the same key in some of the emulators. Using SHIFT will in most cases still work in the emulators, i.e. when enabling ESC as exit key, SHIFT ESC will still work on a COMX as the COMX ESC key.
The 'Paste' key will always be defined as a 'Control' key on Windows and Linux and a 'Command' key (⌘) on OSX. Default key for the paste feature is 'V'.
To restore default Emma 02 hot key mapping press the 'Default' button (orange ellipse) and always press 'Save' to save the changed values.
Hot key definitions:
Key
Function
Used for
ESC
Exit emulated computer, this is only valid if it is enabled via menu Setting / Function and Hot Keys.
All computers
F1
Help
All computers
F2
Activate main computer window
All computers
F3
Switch full screen mode on/off
All computers
F4
Show printer output window
COMX
Cosmac VIP
Cosmac Elf
Netronics Elf II
Quest Super Elf
MS2000
TMC-600
Pecom 32 & 64
F5
Write emulated video to the file specified as 'VideoDump'
All computers with video emulation
F6
Switch debug mode on/off
All computers
F7
Show runtime menu. To change disk and cassette file names, load software and activate emulator panels when using Emma 02 via command line interface (without main GUI).
COMX-35
COMIX-35
Cosmac Elf 2000
Cosmicos
Cosmac Elf
Netronics Elf II
Quest Super Elf
Pico Elf V2
Membership Card
VIP2K Membership Card
VELF
Infinite UC1800
FRED 1
FRED 1.5
Microtutor
Microtutor II
CDP18S020 Evaluation Kit
Cosmac VIP
Cosmac VIP II
MS2000
MCDS
TMC-600
Telmac 1800
Telmac 2000
Oscom Nano
Pecom 32 & 64
ETI-660
F8
Video Terminal Set-up
Cosmac Elf 2000
Cosmicos
Cosmac Elf
Netronics Elf II
Quest Super Elf
Pico Elf V2
Membership Card
VELF
CDP18S020 Evaluation Kit
Cosmac VIP
Microboard System
MS2000
MCDS
F12
Switch RUN mode on/off
Cosmac Elf 2000
Cosmicos
Cosmac Elf
Netronics Elf II
Quest Super Elf
Pico Elf V2
Membership Card
VELF
Infinite UC1800 (only on)
Microtutor (only on)
Microtutor II
CDP18S020 Evaluation Kit
Cosmac VIP
Cosmac VIP II (in ROM Mode)
TMC-600
Telmac 1800
Telmac 2000
F12
Reset computer
COMX-35
COMIX-35
VIP2K Membership Card
FRED 1
FRED 1.5
MS2000
MCDS
RCA Video Coin Arcade
RCA Studio II
RCA Studio III / Victory MPT-02
RCA Studio IV
Visicom COM-100
Cidelsa
Oscom Nano
Pecom 32 & 64
ETI-660
F12
Start computer
All Computers (only from main GUI when no computer is running)
CTRL V on Windows/Linux

Command (⌘) V on OSX
Paste clipboard content to video or terminal window
COMX-35
COMIX-35
Cosmac Elf 2000
Cosmicos
Cosmac Elf
Netronics Elf II
Quest Super Elf
Pico Elf V2
Membership Card
VIP2K Membership Card
VELF
CDP18S020 Evaluation Kit
Cosmac VIP
Cosmac VIP II
Microboard System
MS2000
MCDS
RCA Studio IV
TMC-600
Pecom 32 & 64