Search
Four search options are available: B+L, Branch, Load L & Load V: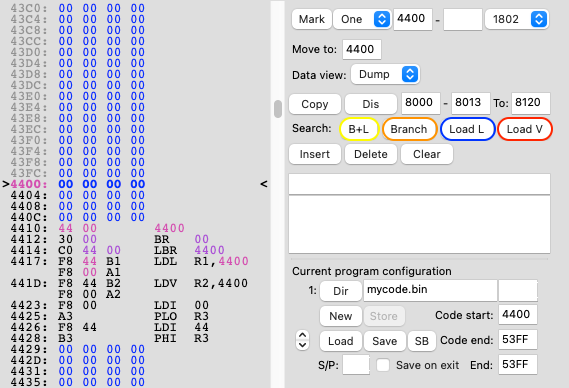 All search features will search code and data areas as defined in the Program Configuration. Result will be listed in the message area.
B+L
Clicking the 'B+L' button (yellow ellipse) will execute a 'Branch' and 'Load L' search (see following two chapters).
Branch
Clicking the 'Branch' button (orange ellipse) will search for branches to the current working address.
In the example above a branch search on address hex 4400 will give message:
Load L
Clicking the 'Load L' button will search for instructions (LDL, LDRL and RLDL) loading the location of the current working address.
In the example above a Load L search on address hex 4400 will give message:

Load V
Clicking the 'Load V' button will search for instructions loading the location or value of the current working address. Note that with Load V all possible load instructions will be listed as follows:
LD H-L: instruction sequence LDI xx, PHI RN, LDI xx, PLO RN
LD L-H: instruction sequence LDI xx, PLO RN, LDI xx, PHI RN
RLDI: RLDI RN,xxxx
LD H: instruction sequence LDI xx, PHI RN (only loading high byte current address)
LD L: instruction sequence LDI xx, PLO RN (only loading low byte current address)
LDV: LDV macro
LDL: LDL macro
LDRL: LDRL macro
RLDL: RLDL macro
In the example above a Load V search on address hex 4400 will give message: