Cosmicos Emulator
This emulator will emulate the Cosmicos computer. Additional information about the Cosmicos can be found on the Emma 02 site.
To start the Cosmicos emulator first select the Elf tab (yellow ellipse) followed by the Cosmicos tab (orange ellipse) and then press Start: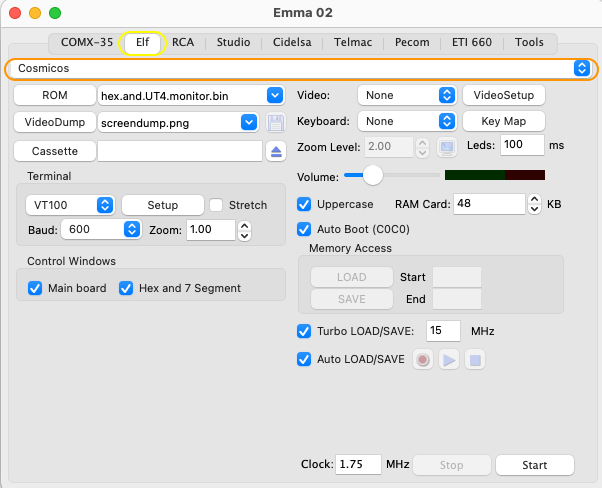 The above will have started the default Cosmicos emulator configuration running the UT4 monitor. To change to other predefined configurations load one of them with the menu option below (blue ellipse) following the grey menu:
Summary of the Cosmicos configurations:
Ascii Monitor
Cosmicos Ascii monitor.
Default/UT4 Monitor
Cosmicos UT4 monitor.
This chapter also includes:
ROM and RAM Files
RAM Size
Control Windows
Video Types
Keyboard Mapping and Types
Boot Method
Cassette Support
ASCII Monitor
Hex Monitor & UT4
MOPS & Hexmops